A 6.9-magnitude earthquake occurred in Hokkaido, Japan. New Chitose Airport closed.
September 06, 2018 08:47 Beiqing Net
0


Original title: Earthquake of magnitude 6.9 in Hokkaido, Japan New Chitose Airport closed
According to the China Seismological Network on the 6th, at 2:00 o'clock on the 6th in the Hokkaido region of Japan (42.65 degrees north latitude, 142.00 degrees east longitude), a magnitude 6.9 earthquake occurred, with a focal depth of 40 kilometers, followed by 05:11, Hokkaido, Japan (north latitude) 42.78 degrees, 142.20 degrees east longitude) A 5.2-magnitude earthquake occurred again with a focal depth of 30 kilometers.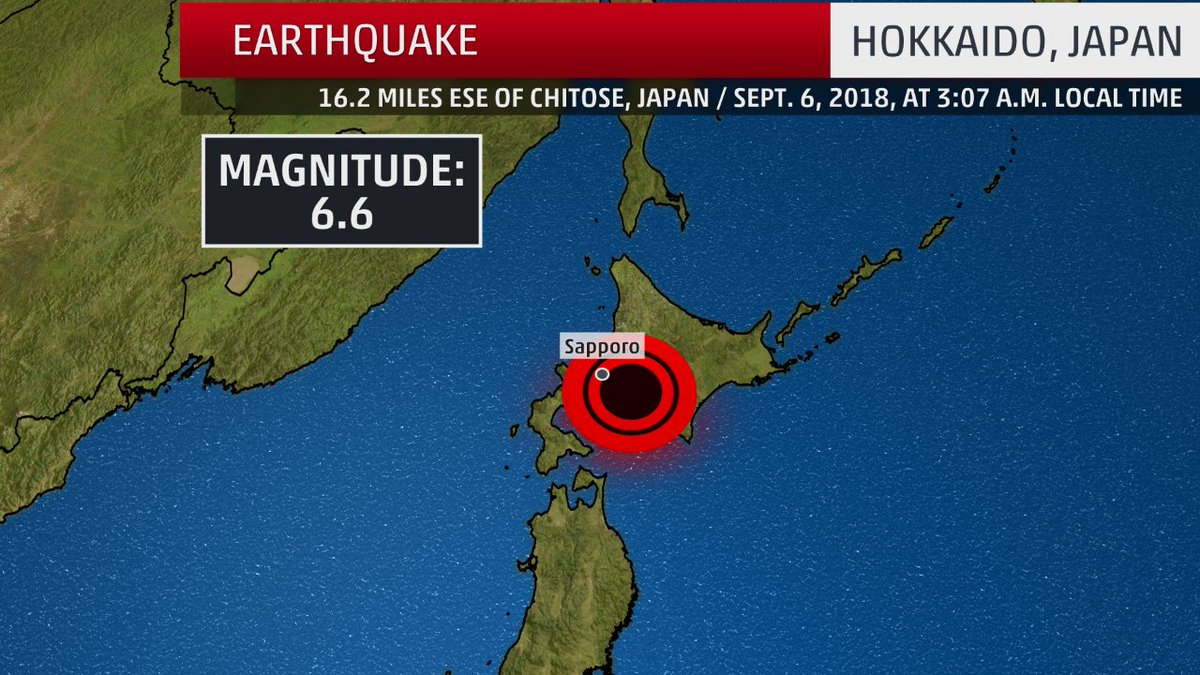 According to the Japanese Ministry of Land, Infrastructure, Transport and Tourism, the 6th Terminal of the New Chitose Airport in Hokkaido was closed all day.
According to the Japan Meteorological Agency, about 6.8 am local time on the 6th local time, a magnitude 6.7 earthquake occurred in Hokkaido. The source of the earthquake is located in the middle and eastern part of the cholera zone. There is no danger of tsunami. According to the China Seismological Network, a 6.9-magnitude earthquake occurred in Hokkaido on the morning of the 6th local time, with a focal depth of 40 kilometers. The earthquake caused many buildings to collapse, and the relevant departments are currently confirming the casualties.
According to Japanese media reports, the earthquake has caused power outages in most areas such as Sapporo. The Hokkaido Electric Power Company said that the earthquake caused power outages in about 5.25 million homes. Some roads have been damaged by earthquakes or have been broken. Some places have also suffered fires, and some highways have also been closed. Due to power outages at the Hokkaido Bo Nuclear Power Plant, external power supply was interrupted. Currently, emergency power generation equipment is used to supply power, and the nuclear fuel cooling device is operating normally.


Regarding casualties, according to Japanese media reports, there is already a report on the cardiopulmonary function of an 82-year-old man, and many others have been injured.
Japanese Chief Cabinet Secretary Yu Yiwei said that Prime Minister Abe has issued instructions to join forces with local governments to provide disaster relief. The Japan Meteorological Agency is holding a press conference to present the latest situation.
A professor at the Institute of Seismology at the University of Tokyo in Japan pointed out that the earthquake occurred in the vicinity of the earthquake. In areas with strong earthquakes, buildings may be damaged and the site may be loose. Strong aftershocks may occur in the future. If you feel that the building is damaged, you should first consider moving to a safe place to take refuge. Experts pointed out that in the next week, we must be alert to the strong aftershocks. The Meteorological Agency will hold a press conference and will also appeal to the public to pay attention to the aftershocks in the next week.
According to Japanese media reports, the strong aftershocks of this earthquake are still continuing. The earthquake has caused many injuries, some buildings were damaged, local schools were closed today, and railway services were suspended. The main railway operator in Hokkaido stated that all services including Shinkansen bullet trains have been suspended. The company said it is not certain when the service will resume.
According to the New Chitose Airport Office of the Ministry of Land, Infrastructure, Transport and Tourism, many walls of the New Chitose Airport Terminal in Hokkaido were damaged. The airport building will be closed for safety confirmation. It is currently impossible to confirm the normal flight time.
Evacuation shelters are being established in Sapporo and other cities. The central government has set up an emergency team to deal with this situation.
(Original titled "High Earthquakes in Hokkaido Collapsed in Multiple Buildings" "Hokkaido 6.7 Strong Earthquake Multi-person Injury: Nearly 3 Million Power Failures Nuclear Power Plant Safety")