Nestlé plans to achieve 25% rPET packaging in 2021!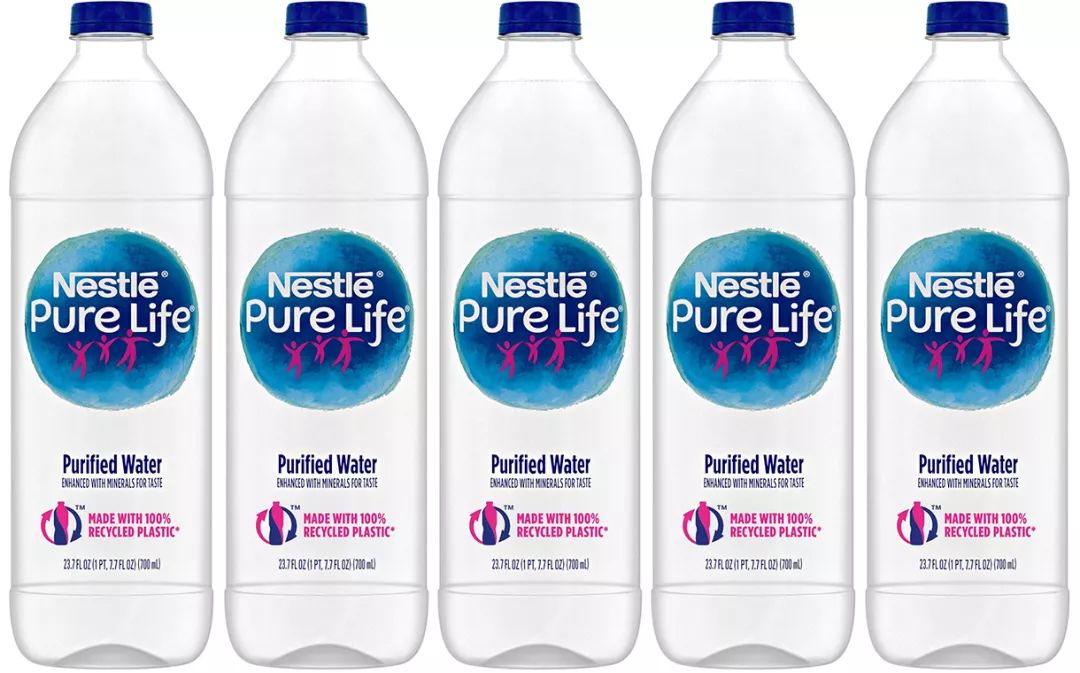 Recently, Nestlé North America announced that it will use 25% of recyclable PET packaging in its US domestic PET bottles by 2021.

Nestlé plans to continue to expand the use of recycled materials in the next few years and further achieve the goal of recycling plastics to 50% by 2025.

Nestlé's divisions such as Birley Mineral Water and San Pellet products are also expanding their partnership with supplier Plstrec. By working with other suppliers, Nestlé will nearly double the use of food-grade recycled plastics, such as rPET, in less than three years.

Last month, Nestlé signed a major agreement to purchase recyclable rPET from Los Angeles supplier CarbonLITE.

Nestan North America CEO Fernando Mercé said: "We want to remove the 'disposable' from the 'disposable' bottle. Our bottles should not be thrown into the trash can, so we have carefully designed a recycling solution."

"PET plastics are a valuable resource. If you recycle them properly, you can use them again and again to make new bottles. We are using action to prove that it is possible to make bottles from other bottles instead of waiting for ten. Years later."

The Ellen MacArthur Foundation found in its 2016 report, New Plastics Economy: Rethinking the Future of Plastics, that most plastic packaging is used only once, and plastic packaging materials are worth between $80 billion and 1200 per year. 95% of the billion dollars have been lost.

Earlier this year, Nestlé launched a 100% rPET Nestlé gift bottle thanks to Nestlé's partnership with Plastrec.

Mark Murray, executive director of the California Anti-Waste Environmental Organization, said: "There is a problem with plastic contamination on the earth. If plastics survive as a packaging material, it must demonstrate a 'closed loop' capability."

Nestlé has taken on this responsibility to accelerate the use of recycled materials in the next three years and promises to achieve 50% rPET by 2025. Nestlé has set an example that other companies in the beverage industry must accept.

In addition to Nestlé, industry giant Coca-Cola's goal is to achieve 50% rPET content by 2030. Danone's goal is to achieve 25% bottled rPET by 2025.

In Europe, the European Bottled Water Alliance is the target of 25% rPET packaging by 2025, and Pepsi's goal is to achieve a 50% rPET content.




Revolutionary technology for PET regeneration, ensuring 100% rPET for food grade packaging
 
Coca Cola

On November 29, 2018, Loop Industries entered into a supply agreement with Coca-Cola, and Coca-Cola plans to use Loop's rPET in its packaging in early 2020.




2

Pepsi

On November 14, 2018, Loop Industries signed a multi-year supply agreement with PepsiCo. PepsiCo said that by the beginning of 2020, PepsiCo will incorporate Loop's plastics into its packaging materials.




3

L'Oreal

In July 2018, Loop Industries entered into a partnership with L'Oreal, which plans to include "Loop PET" in its US and European packaging and is expected to eventually reach a supply agreement.




4

Evian


In January 2018, Evian announced that it will manufacture all plastic bottles with 100% recycled plastic by 2025. In order to achieve the 2025 goal, Evian and Loop Industries have been working together for many years.



In 2018 alone, Loop Industries has reached a supply agreement with many well-known brands around the world. What is the advantage of Loop Industries and is trusted by big brands?






Founded in 2015, Loop Industries is an innovative technology company based in Montreal, Canada. The mission of Loop Industries is to accelerate the world's transition to sustainable plastics, away from the dependence on fossil fuels.

Loop has created a revolutionary technology that is expected to change the plastics industry. This technology separates plastic from fossil fuels by depolymerizing waste polyester plastic into its underlying structural units (monomers). These monomers are then repolymerized to make the original quality polyester plastics in compliance with FDA requirements for food grade packaging.



Everything comes from recycling waste plastics

The environmental entrepreneurship of the founder and CEO of Loop Industries, Daniel Solomita, began with the recycling of a pile of waste plastics.

In the 1960s, a company landed 40 million pounds of high-quality nylon fiber in a landfill in South Carolina. Daniel's job is to process and recycle these nylon fibers and put them back on the market. In the process he realized that reusing materials is more environmentally and economically efficient than a waste linear economy model.



Fortunately, Daniel met with Dr. Essaddam, a "crazy chemist" from Tunisia. Essaddam showed Daniel a technique to transform waste plastic into comparable PET plastics. They found out how to depolymerize. PET.




From 2014 to 2015, they continued to experiment and improve the process to determine the most commercial process technology, and at the same time commercial promotion until the establishment of Loop Industries.

Why is it called revolutionary technology?

Raw materials for Loop Industries technology include all forms of waste PET plastics, including polyester, colored plastic and opaque plastics, including waste PET plastics in landfills and marine.

Through Loop Industries' patented zero-energy depolymerization technology, waste plastics are completely decomposed into monomers: dimethyl terephthalate (DMT) and monoethylene glycol (MEG) - without the need for heat or pressure, which is revolutionary.

The monomer is then purified to remove all colorants, additives and organic or inorganic impurities.

Finally, DMT and MEG were re-aggregated into LoopTM brand PET plastics, meeting FDA requirements for food contact applications.




How do we view this technology?

Loop Industries' innovative technology can be trusted by many well-known brands around the world, and its final product is in line with the quality requirements of major brands.

However, Loop Industries' technology actually uses chemical recovery of PET. Compared with traditional physical and mechanical recovery methods, chemical recovery can ensure the quality of the product, but the reaction process is complicated and the cost is relatively high.

The key to Loop Industries' technology is the discovery of a unique catalyst that decomposes PET at zero heat and zero pressure and then repolymerizes the resulting monomer into a new PET resin.

Currently, Loop Industries has formed a joint venture with petrochemical company Indorama Ventures Public Company Limited to produce and commercialize rPET to meet the growing global demand of beverage and consumer goods companies. It is expected that Loop Industries' rPET can be used in beverage bottle packaging in 2020.

In the context of global attention to plastic pollution and disposable plastic packaging, the use of chemical methods to recover waste plastics may be a useful means to solve the problem of plastic pollution, or a favorable supplement to the recycling of waste plastics by physical and mechanical methods. The technology is dominant, [new observation of waste plastics] will be waiting to see, and you are welcome to leave your high opinion at the end of the text.