Retrospective Analysis of China's Beverage Market in 2018 and Trend Forecast for 2019
 
According to the large database of the China Business Research Institute, the national beverage output in November was 9.621 million tons, up 2.7% year-on-year; the national beverage output in January-November was 144.491 million tons, up 5.8% year-on-year.

It is predicted that the Chinese beverage market will maintain growth in 2019, and the output will exceed 200 million tons.


 



In terms of sales volume, the overall growth has been steady. According to statistics, in 2017, China's beverage sales reached 179.992 million tons, the production and sales rate fell by 1.3% year-on-year, and the inventory increased by 12.4% compared with the beginning of the year.

Since the beginning of this year, the domestic beverage market has performed well. It is estimated that the national beverage market will reach 190 million tons in 2018 and nearly 200 million tons by 2019.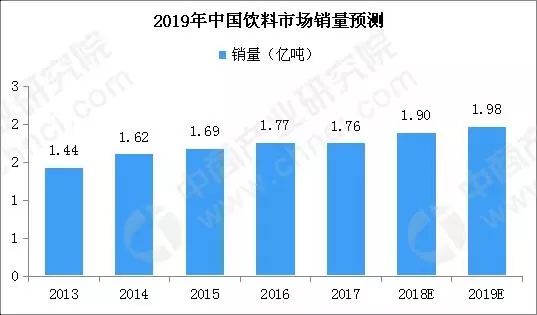 Prediction of the development trend of the beverage industry in 2019


During the "Thirteenth Five-Year Plan" period, "more nutrition, more yuan, more individuality, more convenience, smarter and more cooperative" will become the main theme of the innovation and development of the beverage industry. In the "three products" strategy implemented by the state, compared with "brands", the beverage industry needs to improve quality and increase varieties.

First, with the promotion of the concept of health, the market for various types of vegetable protein beverages, oatmeal and other coarse grain beverages, low-sugar sugar-free beverages, fermented beverages, and nutrient-enhanced beverages will be further expanded. Among them, the application of bio-fermentation technology in beverages has become a hot item for more enterprises and research institutions.


Second, "Internet +" will also be reflected in the beverage industry. Product customization and packaging personalization bring about packaging innovation while also bringing about marketing innovations, such as bottle slogan design, QR code setting, etc., which can stimulate product sales.

In addition, the application of intelligent manufacturing and information management in production activities is getting deeper and deeper, which will greatly improve the operational efficiency and quality control of the enterprise, and help the beverage industry to upgrade and optimize development.

In the future, as new beverage products continue to meet consumer demand, alleviate and solve overcapacity, and create a good environment for industry development through new industry cooperation methods.


A beverage, that is, a drink, is a liquid for human or livestock drinking. It is a product that has been quantitatively packaged for direct drinking or brewing or brewing with a certain proportion of water, and the ethanol content (mass content) does not exceed 0.5%.


The development of China's beverage industry market is roughly divided into three stages. Before 2000, carbonated beverages occupied the dominant position in the beverage market; from 2000 to 2006, consumers' eyes gradually shifted to tea beverages and functional beverages; as people's health awareness gradually increased, consumer attitudes changed, bottled water, Fruit and vegetable juices and protein drinks have attracted more and more attention.




Drink production increased, and the proportion of packaged drinking water was over half


In recent years, the output of China's beverage industry has increased year by year. In 2012, the national beverage production was 130.24 million tons, and by 2017 it will increase to 180.512 million tons. In terms of growth rate, the growth rate of China's beverage industry has slowed down in recent years. In 2017, it experienced negative growth for the first time, at -1.60%.


From January to May 2018, the cumulative output of China's carbonated beverage industry was 67.11 million tons, with a cumulative year-on-year growth rate of 6.70%.



According to the national economic statistics classification standards, China's beverage industry is divided into: carbonated beverage manufacturing, bottle (can) drinking water production, tea beverages, juice and fruit and vegetable juice beverages, functional beverages, milk-containing beverages, herbal teas and vegetable protein beverages. According to the statistics of the National Bureau of Statistics, in 2017, the output of packaging drinking water beverages in China was 95.537 million tons, accounting for more than half of the national beverage production, reaching 52.83%; the output of juice and vegetable juice beverages was 22.285 million tons, accounting for 12.35%; The output of carbonated beverages was 17.44 million tons, with a specific gravity of 9.66%. With the gradual enhancement of people's health awareness, the proportion of carbonated beverages in China's beverage industry has gradually declined.



Industry scale continues to expand


The market is mainly concentrated in East China and Central China.


From the perspective of industrial scale, the scale of China's beverage industry has continued to expand, but the rate of expansion has gradually declined. In 2016, China's beverage industry achieved sales revenue of 655.341 billion yuan, a year-on-year increase of 7.45%; in 2017, sales revenue reached 636.325 billion yuan, down 2.90% from the previous year.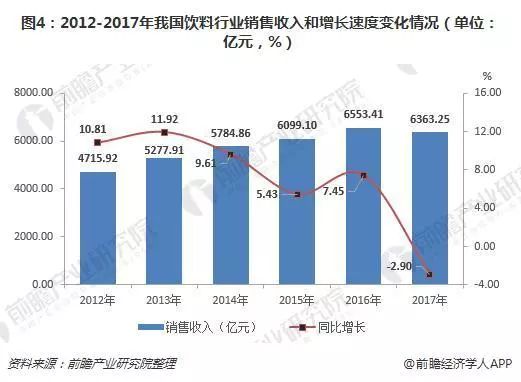 From the regional perspective, East China, Central China, South China and North China are the main markets of China's beverage industry, occupying 30.89%, 18.57%, 16.96%, 12.29% market share respectively, and the four regions together account for 78.71% of the national beverage industry. Industry concentration is strong.



Industry gross profit margin fluctuates greatly



In recent years, the gross profit margin of China's beverage industry has fluctuated. In 2012, it was 24.05%, the highest gross profit margin in the past 7 years; it gradually declined after 2012. It will fall to 21.21% in 2016, the lowest gross profit margin in the past seven years; in 2017, the gross profit margin of China's beverage industry was 24.49%, an increase of 3.28 percentage points over the previous year.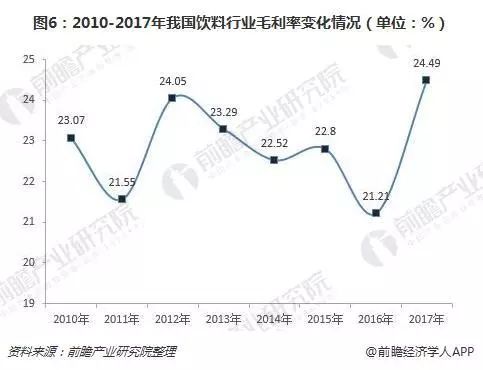 China's beverage industry development trend forecast


With the increase in demand for beverages, liquid consumers will become more aware of their health and market demand will increase. China will still be a period of rapid development in the next few years. However, in the era of technologicalization, Internet+ mode, and artificial intelligence development, China has ushered in the third upgrade of its consumption structure. In this consumption upgrade, it reflects China's growing consumption level and the development trend of focusing on food health and sensory experience. Under this premise, the future development direction of China's beverage industry tends to the following aspects:


1. Functional beverages will usher in the golden period of development


Functional beverages were originally a niche market, but now they have expanded into a large market for the industry, which has already generated a value of 100 billion. This market continues to expand over time. Health-conscious people are paying more and more attention to functional drinks, not just drinking sugar. At the same time, the drinking scene is also expanding, from supplementing energy to expanding into dining, gathering, work, learning, driving and other scenarios.


2. Stable development of vegetable protein beverages


Due to the influence of various allergens, consumers have been looking for suitable elements to replace animal proteins. Plant protein is the most suitable one. Since 2000, plant protein beverages have developed steadily, showing brilliance in banquets, gatherings, etc., and a number of strong brands have emerged.


3, non-concentrated reduction (NFC) beverages are promising


NFC is the abbreviation of English Not From Concentrate. It is called "non-concentrated reducing juice" in Chinese. It is the fresh raw fruit washed and pressed out of the juice. After instant sterilization, it can be directly canned (without concentration and recovery), completely retaining the original fruit. Some have a fresh flavor. In China, the current NFC fruit and vegetable juices are mainly produced by pasteurization, while in Europe and America, ultra-high pressure technology (HPP) is used to produce NFC fruit and vegetable juices. In recent years, the production and application of ultra-high pressure fruit and vegetable juices in China has also started, and the market space for NFC fruit and vegetable juices produced by ultra-high pressure technology will become more and more large in the future.